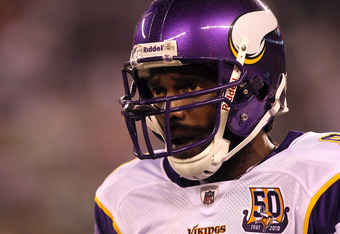 In 1998, the Tennessee Titans had the 16th pick in the draft. With receiver as their biggest need and the best receiver in the draft still available, it looked like they'd take the talented wideout from Marshall. However, they didn't and took Utah receiver Kevin Dyson instead. Even though Dyson was a good player for Tennessee, it was still one of the biggest misses in draft-day history because they passed on a future hall of famer.
Now, 12 years later, they picked up that receiver. Randy Moss is finally a Tennessee Titan.
The Titans were the only team to claim him off of waivers and he'll join the team (happily, according to Adam Schefter:
LINK
) with a chance to get that elusive Super Bowl ring that is left to gain in his incredible career.
First off, even as a Titans fan, I'm not going to sit here and say we're the Super Bowl favorites with Moss coming in. However, this does make Tennessee a legitimate contender to get to Dallas in February, instead of the darkhorse candidate they've been for the first eight weeks of the season.
Let's get into the risks and rewards of the move.
To be honest, I don't see a risk by acquiring the disgruntled receiver. If it doesn't work out, this is still a playoff-caliber team and could get in as Wild Card team. However, the rewards are unimaginable.
With Moss, the offense could be one of the most explosive in the league. And he fits in absolutely perfectly for Mike Heimendinger's offense, which features a deep play-action pass once or twice a quarter. Did I mention yet that Vince Young throws one of the best deep balls in the NFL?
Moss in the offense doesn't only give him the opportunity for big stats; he opens up the playing field for his teammates as well. Look at how Percy Harvin performed with Moss on the other side. Damian Williams and Nate Washington could be having some huge performances if the opposing defenses decide to double-cover the former Viking/Raider/Patriot.
Oh, and there's that guy in the backfield that might finally get some of the pressure taken off of him. Are opposing defenses going to keep eight in the box and take their chances with Moss facing one-on-one coverage? Chris Johnson isn't going to get to his self-projected goal of 2500 rushing yards but he is going to find a lot more success.
"But Moss is a cancer...the Titans can't deal with a cancerous player!"
There's a reason why Jeff Fisher has been a head coach for 16 years. As much as his coaching ability is overrated, he is still a good enough coach to take this team to a Super Bowl. He has dealt with "cancerous" football players (i.e. Pac-Man Jones, Albert Haynesworth) so adding Randy Moss to that list won't affect him too much. If there's another coach in the league other than Bill Belichick that can handle Moss's baggage, it's Fisher.
Moss is in a contract year and he's already gone through two teams. Do you really think he's going to screw around and cost himself more money by giving up on a third team? I believe that Fisher will get the most he can about of him.
And can you imagine the offense when Kenny Britt returns from a hamstring injury? Young under center with Johnson behind him, Moss and Britt split out wide with Williams or Washington in the slot; good luck trying to stop that!
Once Moss was placed on waivers, I felt like this move made perfect sense, but I didn't think the front office had the balls to do it. Thankfully I was wrong and now I get to see one of my favorite players suit up for the team I love. Now the only question that needs to be asked is...
"Randy, are you going to be wearing #84 or #81?"